By Mr. Peabody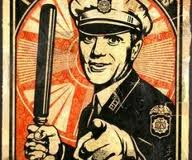 The other day FFFF did a post about the letter Travis Kiger received from Fullerton's Interim PoChief, David Hinig, suggesting that at some point an FPD in-house institution called the "Professional Standards Bureau" might, some day, possibly, if they feel like it, get around to looking into his complaint about the behavior of Fullerton cops at the Joe Felz Memorial Crash Site in the early morning hours of November 9th, 2016. That's when the former City Manager, after a night of election partying, jumped a Glenwood Avenue curb, ran over a tree, and tried to leave the scene of the accident.
Professional Standards Bureau. Okay, stop snickering.
I got to thinking about the long history of the FPD Culture of Corruption that happily existed right along side this supposed "Bureau," and the recollection of all the embezzlers, thieves, pickpockets, perjurers, kidnappers, thugs, pill-poppers, scammers, liars, sex perverts and yes, killers, gave pause. But not for long, because you know, that's all ancient history, right? The department was reformed by Danny Hughes, according to our lobbyist-councilwoman, Jennifer Fitzgerald.
But then something struck me. What was it? Think, Peabody.
Aha! A post from a just a few …read more
Source:: Friends for Fullerton's Future