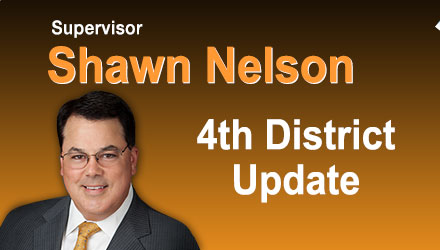 By Supervisor Shawn Nelson
The Board held its annual public budget hearing on Tuesday, finishing all seven programs by the end of the day, and provided "straw votes" to staff for guidance and intention on the budget direction. While the straw votes are not binding, they are helpful in preparing the final budget for adoption. The Board will adopt the final budget later this month.
Some highlights of the budget include:
Of the $5.4 billion budget, $2.2 billion will go to Community Services and $1.1 billion to Public Protection departments. The single largest expenditure in the budget is salaries and benefits at nearly $2 billion.
Following adjustments, the overall budget decreased by $33.3 million.
The General Fund, the Board's discretionary funding, comprises 11.5% of the overall budget, or $622 million.
Property taxes represent over 90% of the General Fund.
Regarding AB 109 and the shift of certain public safety responsibilities from the State to counties, there is a possible funding shortfall of $11 million to offset costs.
Proposition 172, the public safety ½-cent sales tax, is expected to be $275 million for FY 2012-13, the highest in the last five years. Revenue is projected to increase to $287 million in FY 2013-14 and funds the Sheriff and District Attorney departments on an 80/20 split, respectively.
All Board of Supervisors offices will remain unaffected by the 5% department budget reductions, instead voluntarily returning any unspent money to the County General Fund at the end of FY 2013-14. Supervisor Nelson opposed this decision. Each Supervisorial budget is nearly $1 million for the year and includes salaries, benefits and office supplies.
The County will renew its membership to the Association of California Cities-Orange County (ACC-OC) for a full year at a cost of $25,000, which Supervisor Nelson also opposed.
More information on the budget may be found on the Clerk of the Board website.