By Mr. Peabody
FFFF has already shared with the Friends here some of the more ludicrous aspects of "Back the Badge" a PR outlet for cop departments and unions that we pay for.
The whole shabby deception is so bad we decided to dig a little deeper to see just how the Fullerton taxpayers got hooked into paying for the cops to peddle their propaganda – to us.
Here are the documents we were given.
The documents we received indicate a completely non-transparent, slipshod City-vendor relationship in which deliverables are sketchy, and grossly overvalued.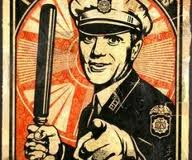 First, it's important to point out that this relationship was approved in secret by former City Manager Joe Felz in spring 2013, presumably under his spending authority. The City Council may have been informed, but the public most assuredly was not. Even Felz must have been aware of the possible public blowback against this nonsense. And he undoubtedly had the support of council persons Flory, Chaffee and Fitzgerald in trying to keep this gross squandering of public funds out of the public eye.
It is critical to recognize the contract for what …read more
Source:: Friends for Fullerton's Future